Mapio Cymru now has an experimental map you can browse, as a counterpart to the main map.
This map currently looks fairly similar to the main map, but it's running on a separate server which I've provisioned for it:
Look closely and you'll see that all the place names are subtly different.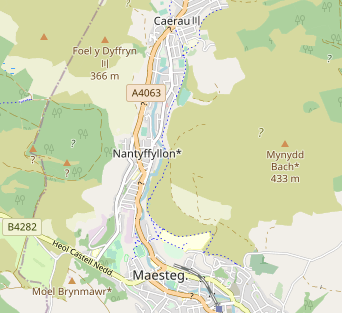 Why do this? The main purpose is to spot gaps in the data for names in Welsh. There are a few means by which a name can find its way to the main map. The map takes data from OpenStreetMap and Wikidata, and then processes it. We at the Mapio Cymru project wanted to convey the data source of each name on a map, but separately from the main map.
At the moment there are four potential sources noted in the experimental map's key:
From the name:cy field (OpenStreetMap)
From the name field (OpenStreetMap) – while not labelled as being in Welsh the name looks as if it could be in Welsh, according to certain criteria. I need to blog about these criteria soon.
From Wikidata
No suitable name found (at the moment)
Please note that this key could change in future. Please refer to the map and its own key for details.
You won't be able to do all the things that you can do with the main map, like search and easy embedding.
What you can do is browse the experimental map to find deficiencies and then edit OSM to enter names, in instances where the data is incomplete.
Your changes will appear on the main map and the experimental map.
Ultimately the place name you enter could then appear in a multitude of apps and projects, thanks to its licensing status as open data. I am very glad to offer this resource as a means of helping anybody who wants to share place names in Welsh. Thanks again to the Welsh Government for supporting this work.
The experimental map server is called the Pwll Tywod, or sand pit. This is denoted by the sandy coloured border. Our use of this term is to convey that we are playing with how it appears. Please excuse any occasional tech glitches you might see on the experimental map – but that's the point.